Gluteus Medius Non-Surgical Treatment
Gluteus Medius Non-Surgical Options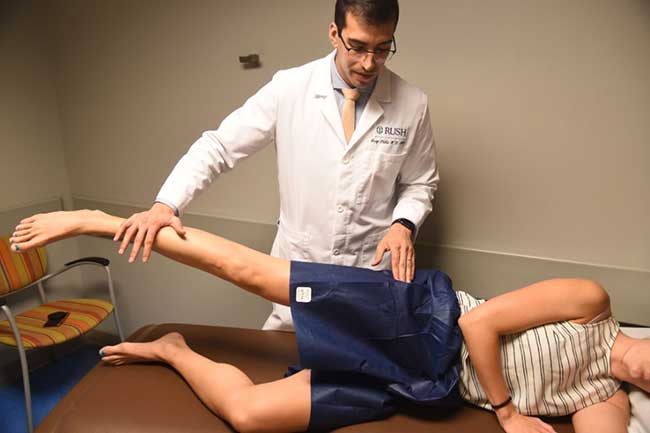 In some instances of gluteus medius pain/dysfunction, Dr. Jorge Chahla may determine that conservative treatment can achieve a good outcome for the patient, as surgical repair is typically considered a last-resort in the management of hip abductor pain/dysfunction. For smaller, partial-thickness tears, the surgeon may prescribe the following non-surgical treatment options, which may include but are not limited to:
NSAIDs (non-steroidal anti-inflammatory medications).
Physical Therapy to strengthen the region and regain mobility.
Activity Modification to prevent further damage to the region.
Assistive Devices (eg. canes or crutches) to reduce load to the damaged muscle/tendon.
If initial conservative treatment is unsuccessful in eliminating pain and restoring full range-of-motion within the hip abductors, the surgeon may then recommend surgical repair of the gluteus medius.
It is important to not self-diagnose your condition, if you think you may have sustained damage to the gluteus medius. Damage to this muscle can begin through inflammation (known as trochanteric bursitis) but progress to a partial-thickness, full-thickness, and eventually a complete, retracted tear. If you have noticeable symptoms and issues with your gait, it is crucial you contact your physician immediately.
Use of Orthobiologics in Gluteus Medius Treatment?
Recent studies have shown that orthobiologics may provide some benefits in the treatment and management of gluteus medius tears. For gluteus medius tendonitis (inflammation of the tendon) or even partial-thickness tears, the use of platelet-rich plasma may help in healing and reducing inflammation. Platelet-rich plasma (PRP) is obtained by taking the patient's own blood and centrifuging it (spinning it down in the lab). PRP is then injected into the site of the gluteus medius tendon tear. Dr. Jorge Chahla can help make the determination whether biologics may be suitable for your case
At a Glance
Dr. Jorge Chahla
Triple fellowship-trained sports medicine surgeon
Performs over 500 surgeries per year
Assistant professor of orthopedic surgery at Rush University