Bucket Handle Tears
What are bucket handle tears?
Bucket handle tears are larger tears that occur along the long axis of the meniscus. They run from anterior to posterior along the meniscus and can be acutely debilitating as they are associated with the catching/locking symptoms that trap the knee and prevent patients from straightening out their leg. Like many of the acutely symptomatic tears, bucket handle tears are typically caused by trauma, usually a sporting injury, that occurs when the patient is twisting or pivoting their leg while trying to abruptly change direction.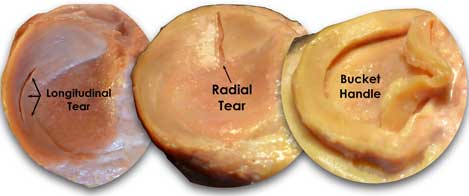 What are the symptoms of a bucket handle tear?
Bucket handle tears will typically cause an immediately audible pop followed by significant pain and swelling. Additionally, the tear will generate a flap of meniscal tissue that will lock the patient as the tissue gets stuck between the tibia and femur while trying to move the knee. This flap is mobile. There will be times where it flops into a position that causes pain and locking, and there will be other times when it will flip back into its normal position, and the patient will temporarily feel normal.
What are the treatment recommendations for a bucket handle tear?
Because of the high degree of functional compromise associated with bucket handle tears, most patients will have surgery to repair these acute injuries. Due to the size of the tear, the free edges will need to be brought together before several sutures (absorbable stitches) can be used to tie them together. For smaller bucket handle tears, tears that are minimally symptomatic, or tears that are more chronic in nature, surgery may not be the best treatment option. Additionally, there are cases where the tear is unlikely to heal, or the patient's goals and demographics make meniscus removal (meniscectomy) a better option for that specific patient.
Dr. Jorge Chahla specializes in the treatment of complex knee, hip, and all sports related injuries. He is a pioneer in cartilage restorations and minimally invasive techniques for knee preservation.
When you are in need of an orthopedic knee surgeon in Chicago, schedule a consultation with Dr. Jorge Chahla. Dr. Chahla has orthopedic clinics in Chicago, Naperville, Oak Brook, and Munster Indiana.
At a Glance
Dr. Jorge Chahla
Triple fellowship-trained sports medicine surgeon
Performs over 500 surgeries per year
Assistant professor of orthopedic surgery at Rush University