Root Tears
What are meniscal roots?
The meniscal roots are its insertions into the tibia. Each meniscus has an anterior root attachment at the front of the tibia near the kneecap and a posterior root attachment that is near the back of the tibia. Meniscus root tears tend to be traumatic injuries that occur in two groups of patients. The first group is typically younger athletes in their 20s. The second group is adults in their 50s. For both groups, the rapid onset of arthritis associated with these injuries means that surgical repair is typically recommended.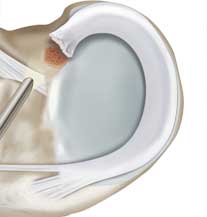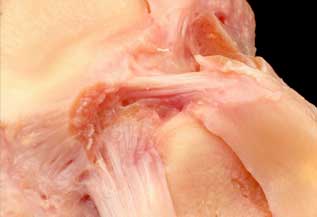 Why are meniscal roots important?
When the meniscal roots are damaged, the meniscus becomes nonfunctional. Studies have shown that meniscal root tears are biomechanically equivalent to having no meniscus at all. To make matters more complicated, a meniscus root must be reattached to its exact anatomical insertion. The difference between success and failure is as small as a few millimeters. Fortunately, for these injuries, when the tear is repaired properly, there is a good prognosis as the knee returns to a normal functional status.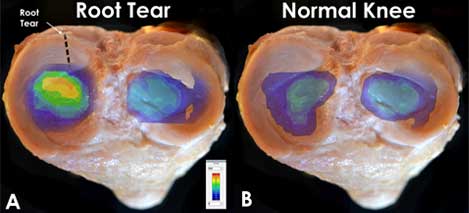 Who can be treated with meniscal root repair?
Most patients with root tears will undergo meniscal repair, but specific considerations where surgical repair would not be attempted do exist. These are similar across the different meniscal tear subtypes. Considerations where surgery would not be recommended include preexisting severe osteoarthritis (because that patient's symptoms would not improve with this surgery), advanced age (because of the relative rigor of a rehabilitation regimen after a repair and the timeline of cartilage damage after the loss of a meniscus), and a patient who is in poor health and would not do well with surgery at that time.
At a Glance
Dr. Jorge Chahla
Triple fellowship-trained sports medicine surgeon
Performs over 500 surgeries per year
Assistant professor of orthopedic surgery at Rush University